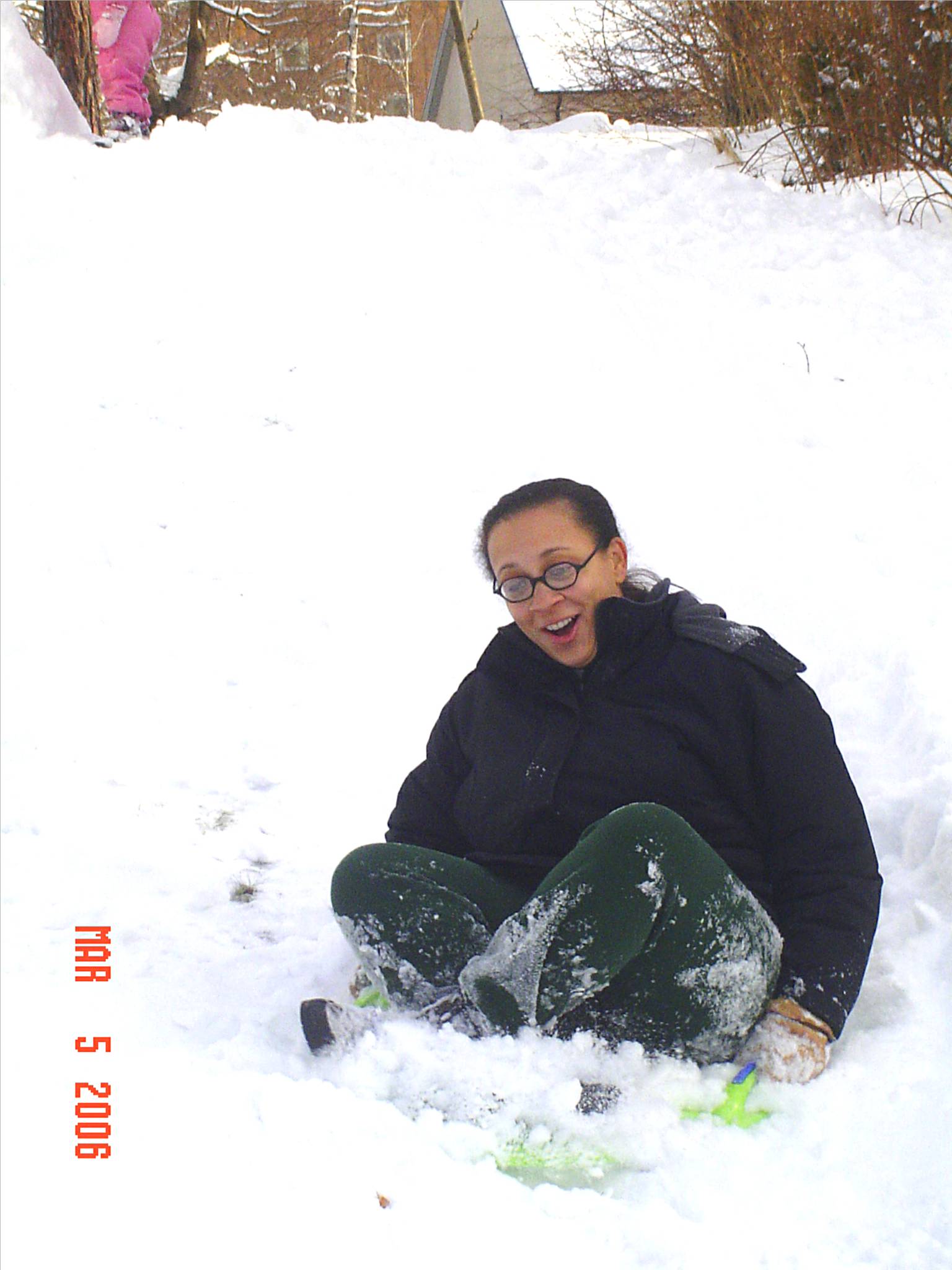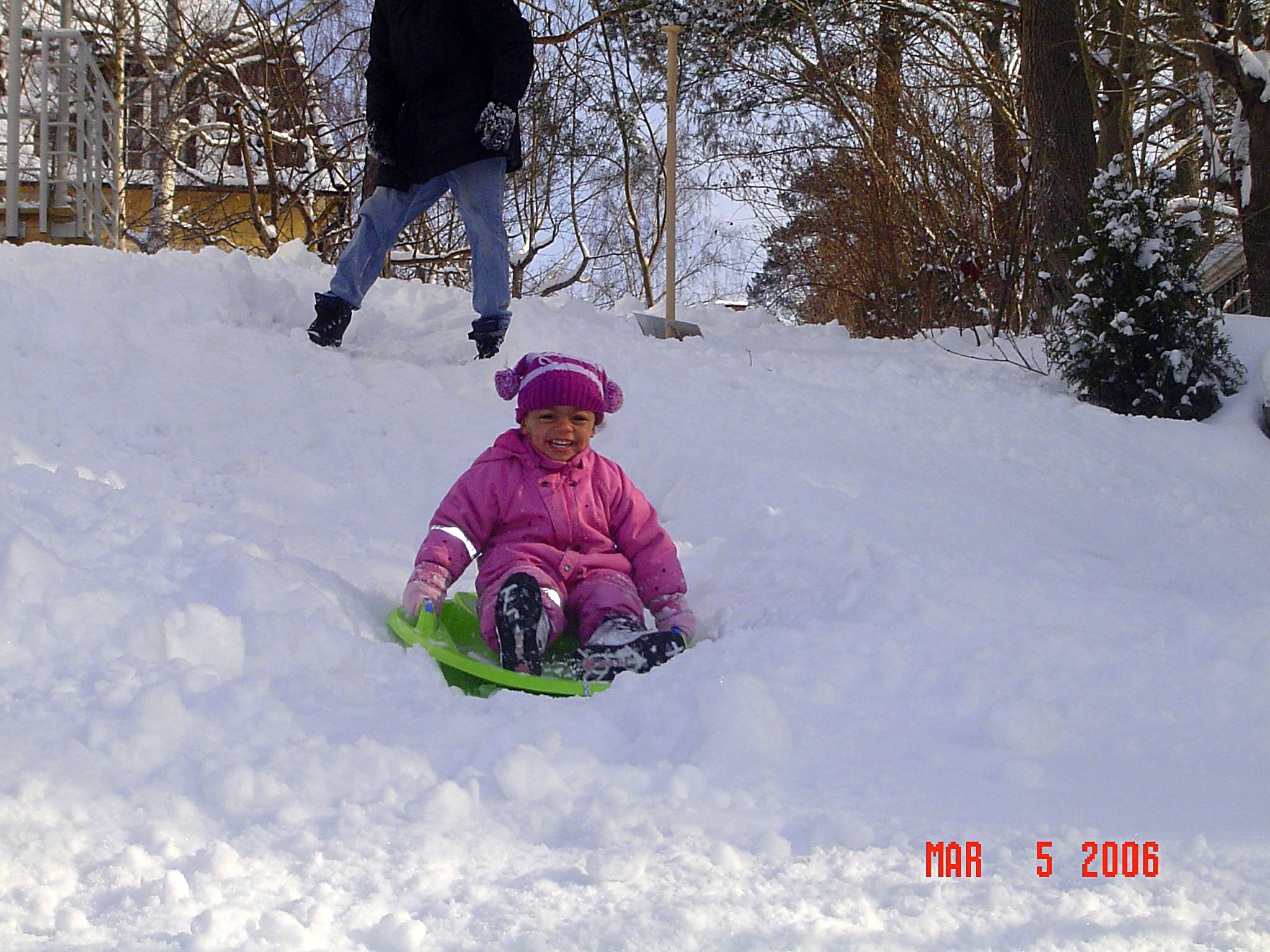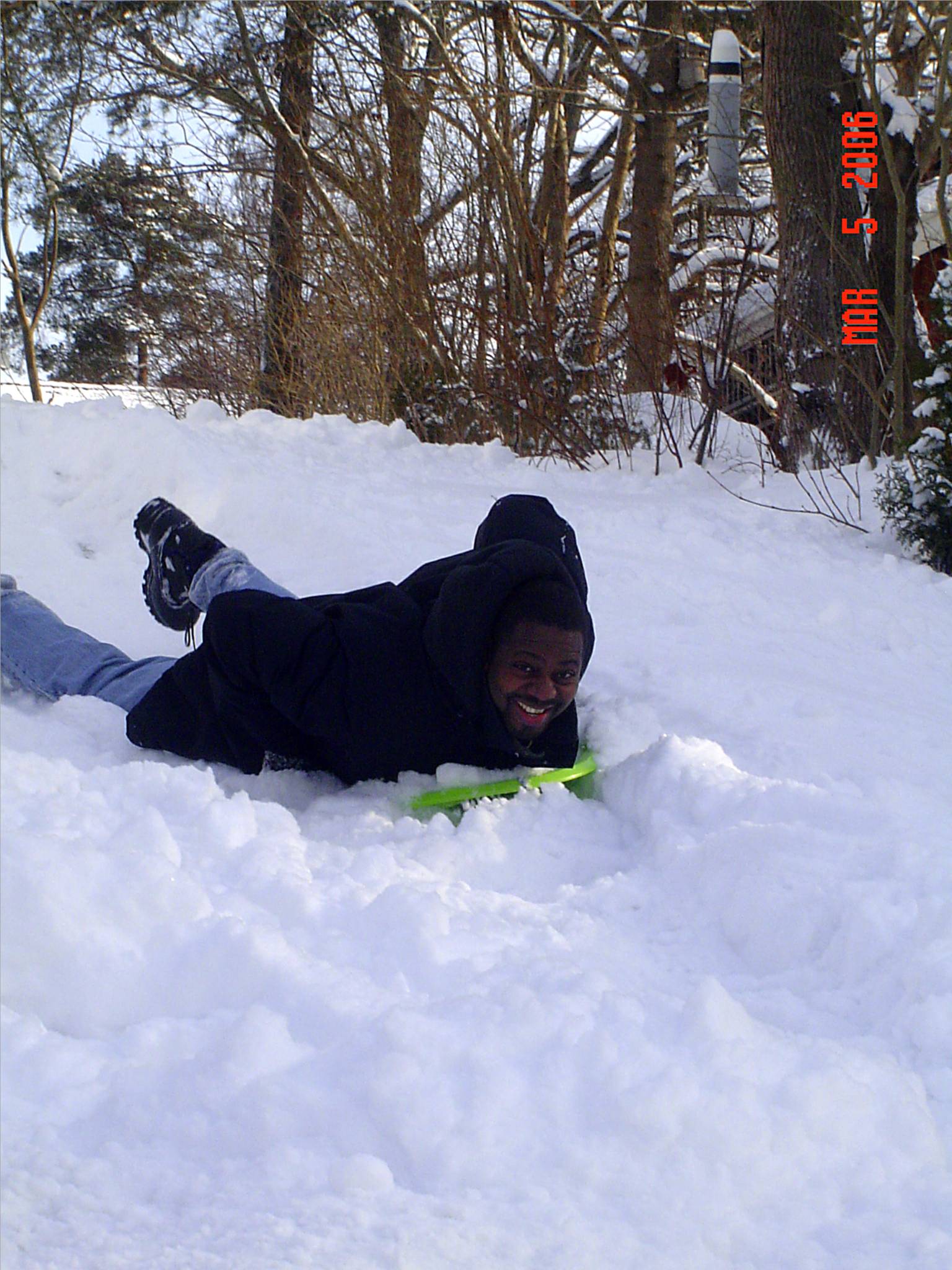 Our Second Swedish Winter
March 4, 2006: 
Where to start?  This winter has been a fairly traditional, standard Swedish winter - cold & snowy!  This is what we expected when we moved here in May 2004.  We were lucky last winter that the snow came late and lasted until April.  It was cold, but mild compared to Swedish standards.  On a few occasions last winter, it was colder in Cincy than in Stockholm.  But this winter is different!
We are doing fine, though Kelly is recovering from a dislocated left elbow.  Looking back on it, she was quite lucky as she slipped on the ice and tried to break her fall using her arm.  It was scary as we both thought it was broken - but was quite relieved when the doctor told her it was dislocated. I got a crash course in assisting Kelly with the simplest tasks - getting dressed, fixing her hair, etc.  It was fun helping her as I knew she felt horrible about the incident.
As we were making our way to Karolinska Sjukhus (hospital), the twins kept telling Kelly "Don't cry Mommy!"  How cute!!  As I was there fighting back tears, laughing at them but utterly concerned with Kelly's injury, while trying to drive to the hospital.  After a long, ahem, 7 hours in the ER, xray and recovery rooms, Kelly was finally released, outfitted with a temporary cast.  As she entered the room where the great staff allowed me and the twins to relax and rest, Tiana had just fallen asleep.  She refused to sleep knowing Kelly was hurt.  She kept asking me, in an assurring way, if Kelly was OK.  At that point, I knew my oldest had a huge heart!  Kiara passed out after I told her Kelly was ok.  Her reply was "OK, Daddy!  I go to sleep now!"
We concluded 2005 in grand style!  We enjoyed Christmas here in Lidingö.  We spent 2 weeks in Florida. 7 days on the MS Disney Magic with Mickey, Minnie, Donald, Goofy and the gang.  We also spent 2 days before and after the cruise at Walt Disney World.  Needless to say, the twins know every detail about the Disney Princesses now!  After returning to Sweden, we spent Christmas at home.  We were greeted with a visit from St. Niclaus (a friend who lives here on the island).  The twins about passed out when we told them it was St. Nick! 
As the new year approached, we were invited to toast the New Year with neighbors across the street.  It was very nice as we finally got to meet some people whom we had not met yet.  One family has a daughter a few months younger than Tiana & Kiara.  It was funny to see the twins pretend to be shy in the beginning, but by the time we got ready to leave, they did not want to walk across the street to go home.
We are getting ready to host a few friends & family from Cincy over the next few months.  Thad Karbowsky will drop by for a few days in a couple of weeks.  He's over for a business trip and will come to visit.  It'll be good catching up with Thad as I've not seen him since the golf trip to Whistling Straits last June.
Web & Kim Brewer are coming in early May.  They'll stop in Amsterdam first, then come to Stockholm.  We will then head to Costa del Sol, Spain with them for a few days.  They will then head back to Cincy.
We are hoping that Ohma, Dave, Kendra & Kenny can make it for Midsommer and stay a week or so in early July.  If we can coordinate it, we will take a special excursion to the south of Sweden, to a town called Visby.  Everyone tells us Visby is beautiful and we really want to check it out this summer.
We have a few trips coming up in an effort to see more of Europe.  We travel to Rome next week for a long weekend getaway!  We are looking forward to see all the beauty and splendor that embodies Rome - from its architecture to art and from its food to wine.  I am certain we will enjoy it!
We just finalized our Easter weekend plans - Paris, France!  We will spend Easter weekend in the metro Paris area.  We will visit Disneyland Paris.  We haven't told the girls as they will lose it knowing Cinderella, Snow White, Mulan, Jasmine and the ever important Tinkerbell all will be there, in addition to the usual suspects.  It is cute to hear Tiana say "Don Duck"!  And no, it is not Donald, it is Don to her...they are on that level!
Oh well, enough for now and I promise to update the site more frequently!
===========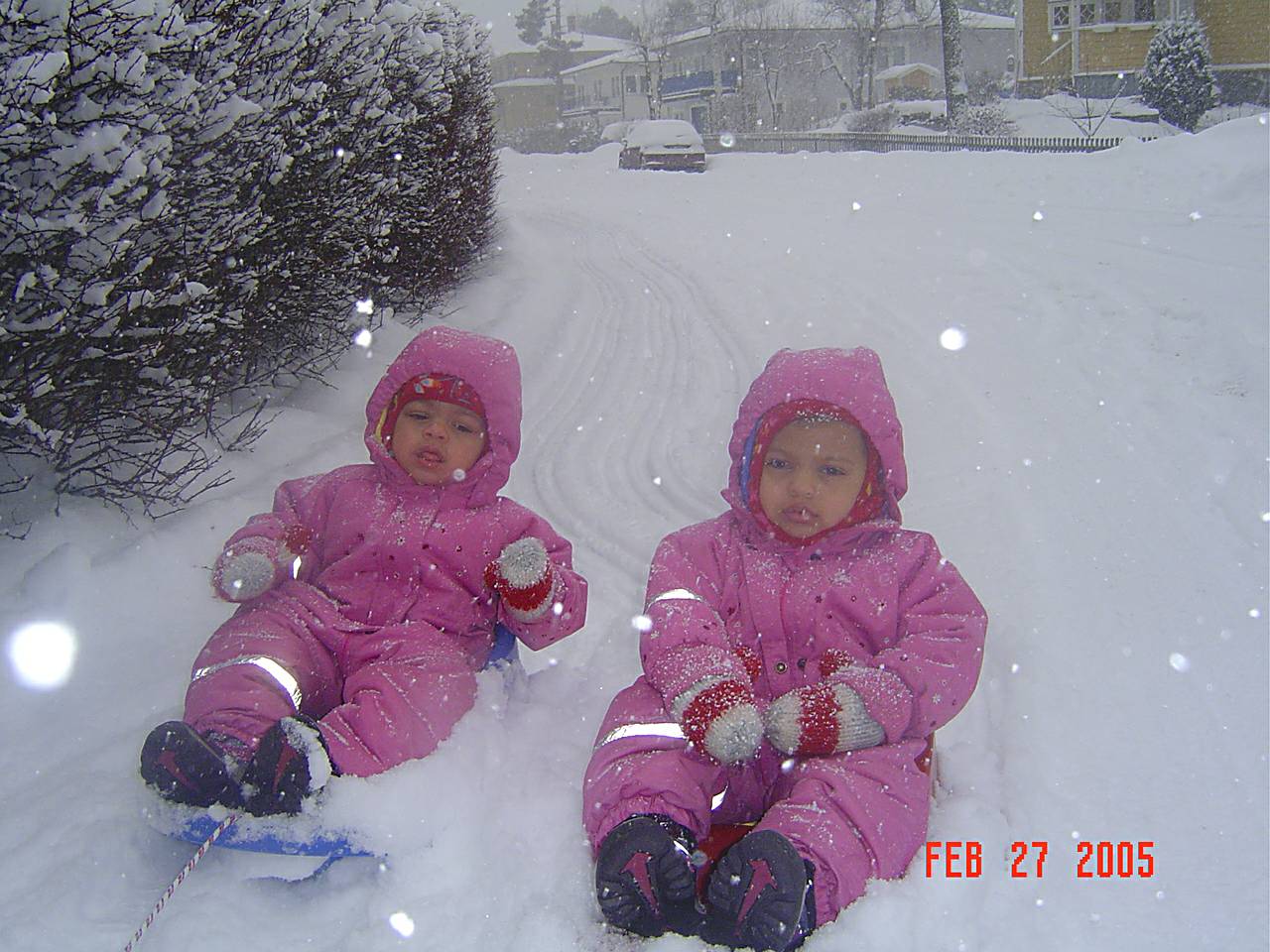 Our First Winter in Sweden
February 27, 2005:  Snow has finally arrived in Stockholm. It started four days ago and has not stopped.  This is what we were expecting. We made snow angels and had a snow ball fight. The girls enjoyed their first sleigh ride of the  new year. Kiara had the most fun catching snow flakes on her tongue. Tiana enjoyed reclining in the snow (over two-feet deep).
It was so  unseasonably warm last month that Terry and I went out one night to chill at the Absolut Ice Bar downtown. We donned silver parkas over our winter coats and stepped into a room made out of arctic ice blocks. The tables, bar -- even the "glasses" we drank from were made out of ice.
For Valentine's Day weekend, we went to Geneva. Big mistake. Left a gorgeous sunny sky in Stockholm for an overcast, cloudy and rainy weekend.  Still we had a chance to enjoy fondue and raclette as well as visit a friend who just re-located to Geneva from the states.
Next month we head to Portugal for a weeklong vacation, leaving on Good Friday.  We are staying at a timeshare exchange in Quinta do Lago, which borders the Atlantic Ocean in an area called Algarve. Can't wait to go.  http://www.fourseasonsfairways.com/fourseasonsfairways/default2.asp We're hoping that the temperatures will be in the mid-70s. Terry is taking his clubs.
The girls are enjoying dagis. Their vocabulary includes an interesting mix of Swedish and English. They understand everything and can say the names of all of their classmates. But they cannot pronounce their own names. Check out our photo gallery for their latest pictures.
--------
July 31, 2004
We arrived in Stockholm on May 1 and were greeted with warm, bright sunshine. Despite the 14-hour flight from Cincinnati, we set out to explore our new home.
First, we met our relocation agent, Lena, at a temporary  apartment in Gärdet. The three-and-half room flat had two baths and a view of the Swedish Pentagon. Lena had stocked the tiny refrigerator and pantry with a few essentials to get us through the weekend. The only  things we recognized were milk, coffee and Barillo pasta.  After carting seven suitcases to our apartment on an 'Hiss' built for two, we loaded the girls into our Volvo wagon (an airport rental) and headed to the house on Lidingö.
How Terry found this house, I will never know. We had only visited it twice in January while it was under construction.  The house was still under construction on May 1. It now had interior walls, windows and finished floors (in most rooms). But electricty and water were weeks away.  The owner was surprised to see us but gave us a quick tour.  It would be another two to three weeks before we could move into the house.  So it was back to Gärdet!
Our first week in Stockholm flew by.  We went for long walks in the nearby parks, found the grocery store, bank, post office and applied for our Personal Identification Numbers.  We even found a peditrician when Kiara developed a nasty cold and fever.  Our favorite hang out become Tessin Park where there was an outdoor cafe, playground, fountain and thousands of Daffodils in bloom. Everything seemed to be in bloom when we arrived.
The second week was the toughest because I had to return to Cincinnati for training without Terry and now two sick babies.  Somehow he managed to get by for an entire week without me. I couldn't have gone that long without help.  Every time I called from Cincinnati, I could hear crying babies in the background.  The rest of May and early June were punctuated with overnight business trips to Belgium, Germany and Switzerland.  Terry estimated I was out of town three out of every five business days, and I was told the new job involved hardly any travel.  I guess it is all relative. In Cincinnati, I could take an elevator or a 15-minute cab ride to meet with key colleagues.  In Western Europe, my counterparts are sitting in other countries. Travel is part of the job. Thank goodness it slowed down. We plan to combine some family time with  my next business trip (in October) to Belgium. Terry spent a lot of time in Belgium when he worked at P&G and wants to show me Brugge.
The biggest surprise since we arrived is how difficult the simplest of tasks can be when you do not speak the local language.  Everyone speaks English but everything is written in Swedish.  It took us only 24 hours to get a mobile phone but three weeks to figure out how to retrieve voice mail.  Internet service at home was a five to six week wait due to the high demand for highspeed service.
The biggest disappointment has been child care.  The American-run day care that we applied for did not accept our girls.  The waiting list was long, and we were excluded because we lived outside of Stockholm.  That left us with a 45-minute commute to an English-run day care or finding a local day care on Lidingö.  These are state-run institutions. Everyone raves about them, but the whole system makes no sense. You apply, you wait and you are notified where you have been accepted. No chance to pre-screen or view the sites first.  Instead of a structured day care facility, our girls have been assigned to a 'house mother.'  We got the notification as the schools shut down for the summer holiday. Hopefully, we will have more options to explore before turning our daughters over to strangers.
The best thing so far has been moving into our new home in early June.  We love hanging out on the rooftop terrace, watching hot air balloons take off and cruise ships head out to Finland.  Lidingö is  maze of walking and bike trails. We get plenty of exercise with the girls. Terry has dropped an entire size! 
We have also been blessed by visits from family in July.  Terry's brother and his family flew over on July 4.  We had fun being tour guides.  The girls loved playing with their cousins and were spoiled rotten by all of the attention they got.  Terry's mother came next. This was her first trip to Europe and she is enjoying it!  We explored the Royal Canal, took her to NK (up there with Harrods of London for fine shopping), and took our very first cruise. Yes, we went to Helsinki, Finland. The view of the archipelago as you leave Sweden was breathtaking.  I have heard estimates of 14,000 40,000 islands and islets can be found in the archipelago.  We didn't bother to count.  We just basked in the golden sun and watched the sailboats float by.
We try to get as much sun as possible now that daylight is dwindling. When we arrived, the sun rose at 3 am and fell by midnight.  Now it is only twilight at 4 am and dark by 10 pm.  Our first Swedish summer is drawing to a close, and so must I.  We'll do our best to make sure the next update is more timely.
The Anchrums!
Click thru for a pic of Norman and the Family in Gamla Stan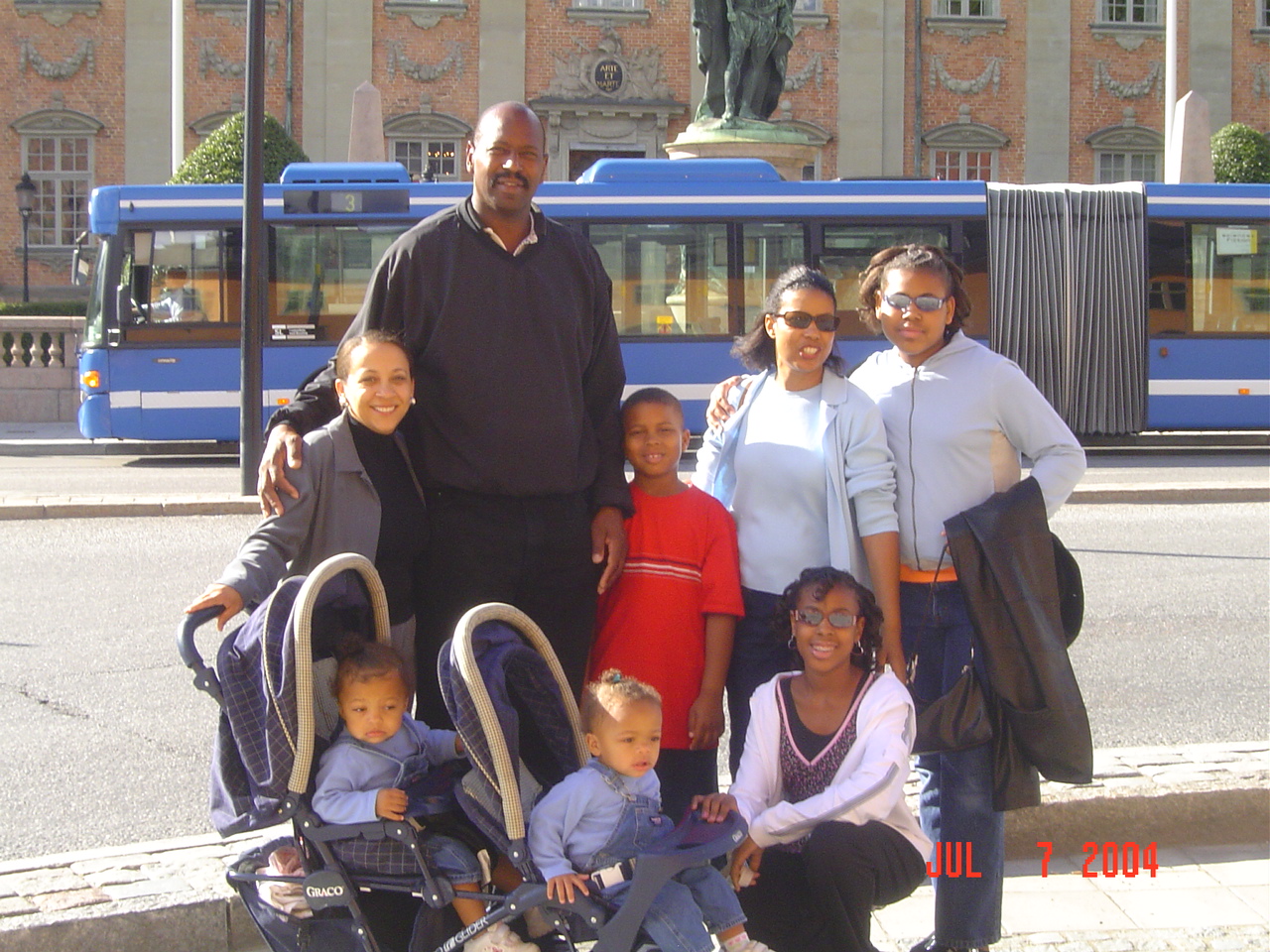 ---
June 8, 2004
We have transitioned into our new home on Centralvägen in Lidingö.  We are simply blessed to have this wonderful opportunity to work, live and travel while in Sweden.  We moved in two weeks ago and it was worth the wait.  The home is magnificent!!  We often go up to the top balcony in the evenings and see the cruise ships go by enroute to and from Finland.  It is a sight to see as we are only a 5 minute walk to the Baltic Sea.  Last Sunday, we strolled the twins down to the sea and sat on a pier for about 30 minutes watching the wildlife and marine traffic.
Lidingö and Stockholm are great.  We have mastered using the mass transit system.  At least once a week I take the girls on an excursion via the Lidingöbana (local train) and transfer to the Tunnelbana (subway) at Ropsten.  Stockholm is a typical European city in it's efficient mass transit system.  It is much easier to take the Tunnelbana downtown than drive as parking is not only expensive, but very scarce.  Trust me, parking tickets are approximately 450 SEK (about 45 USD)
We spend the vast majority of weekend time shopping at IKEA, BoConcept and the Kista Galleria.  BoConcept is a sweet store with a line of furniture we were introduced to at BOVA in Cincinnati, Club 8.  Check out their website  www.boconcept.com.  We ordered our bedroom set from there.
Shopping at IKEA is interesting.  First of all, it is very affordable.  It's like shopping at WalMart but they carry furniture, kitchen items, bedding and household accessories.  The stores are huge and you have to assemble everything yourself at home.  I wish I had a camera to take pics of us buying the twins beds, 4 mattress sets, mattress pads, linens, pillows and curtains.  We needed 4 big carts to gather everything.  The funny part is when the store close they start playing this music and we're in there humming along with the song as we frantically try to gather all this merchandise on hand carts.  IKEA is so smooth, they have a cafeteria in each store and they serve beer!  Now, that's what I'm talking about!!
Kelly has transitioned into her new assignment and I have begun my job search.  I must admit that chasing 18 month old twins around all day is not just a job, it's an adventure!  Tiana and Kiara are fun to play with all day.  I have to pinch myself a few times a day to make sure this isn't a dream.  Those two have an abundant energy source, but I am there with them every step of the way.  Kiara spends most of her day trying to boss around Tiana and Tiana spends her entire day clubbing Kiara on the head.  Twins are amazingly funny!
We have started taking Swedish lessons.  After one lesson, it's safe to say that this is going to be interesting.  We have enrolled the twins in a local school on the island.  The school is Swedish speaking.  The girls will speak Swedish much better than we will when it's all said and done.
Last but not least, we have decided to purchase a Volvo S-80 T6.  We should pick it up within a week or so.  Very nice automobile and roomy enough for all four of us.
Regards,
The Anchrum's
---
April 28, 2004
Dear Family and Friends:
We are ready to embark on an awesome adventure.  The packing officially began this week, the movers arrive on Monday and we will board Delta with one-way tickets to Stockholm on Friday the 30th.
By now, most of you are aware about our plans to live abroad for the next two to three years.  This is a great professional opportunity for Kelly and a great growth opportunity for us as a family.  Kelly will lead External Relations for P&G Nordic, and Terry will focus on getting our family settled over the summer.  Then he will strengthen his credentials with international management experience.
Our move will enable us to immerse ourselves in a new culture, to travel throughout Western and Eastern Europe, and to expand our circle of extended family and friends.  We believe this experience will enrich our lives and are eager to seize the opportunity.
We extend an invitation to each and every one of you to visit us.  We selected a new home that will be comfortable not only for us, but our extended family as well.  (Travel Tip: June through August is the best time to visit Sweden.  The sun rises as early as 3:30 am and sets after 11 pm.  November and December is the darkest time of the year.  The Anchrums plan to travel stateside during this period.)
The most difficult part of the journey we are about to begin is leaving you.  We are blessed with the best family, friends and colleagues that we could ever pray to have in our lives.  We cherish the good times we have shared, we thank you for being there for us during the tough times and we look forward to maintaining the ties that brought us together.
We are not going to say "good bye," but "see you."  We will always be just a phone call or email away.  Terry is busy building the ultimate family website at www.anchrum.com to make it even easier to keep up with the exploits of Tiana and Kiara.  This dynamic duo plans to take Stockholm by storm!
Med vänlig hälsning/with best regards
Terrence, Kelly, Tiana & Kiara
Centralvägen 8b • 181 60 Lidingö • Sweden
Emails: Kelly @ Anchrum.com
Terrence @ Anchrum.com
---
Phone 446 0646
http://www.anchrum.com/family_letter.doc
Letter to Family and Friends http://www.anchrum.com/family_letter.htm